You've reached the internet home of Chris Sells, who has a long history as a contributing member of the Windows developer community. He enjoys long walks on the beach and various computer technologies.
Friday, Sep 30, 2005, 8:51 AM in Fun
---
IMDB: "8.4/10"
Oregonian: "A-"
Wired News: "And it's those human elements -- the undeniable chemistry between the crew, the tense standoffs between good guys and bad, Mal wrestling with his conscience -- that make Serenity work."
New York Times: "Scene for scene, 'Serenity' is more engaging and certainly better written and acted than any of Mr. Lucas's recent screen entertainments. "
I never knew about the series while it was new, but have seen it 2.5 times since it came on DVD, loving it all the way through every time (last weekend, we watched it straight through). And not only that, but my family loves it, too, which is why I haven't asked my geek friends to come along to this one with me; this is a sci-fi movie that my whole family is looking forward to. How often does that happen?
Thursday, Sep 29, 2005, 11:57 AM in Fun
---
These light sabers look very cool. It'd be nice to give my boys something that they could fight with that didn't break in 5 minutes (of course, I might need one, too, just as a backup...).
Thursday, Sep 15, 2005, 10:53 PM in Fun
---
The new Nintendo control looks *very* cool...
Monday, Aug 29, 2005, 11:10 PM in Fun
---
You have to love a bunch of geeks willing to publish a video of themselves doing a parody of an N'Sync song, including the dance moves. Nice!
Friday, Aug 26, 2005, 12:29 AM in Fun
---
Doug and I will be giving the following talk at the PDC this year:
"Are you tired of lackluster user interfaces and bit-dropping communication infrastructures that don't work together? If so, then you'll want to see the magic that Doug Purdy and Chris Sells can wield when they build a couple of smart client applications using Windows Presentation Foundation and Windows Communication Foundation. In this talk, you'll be astounded and amazed by the power and simplicity of Doug and Chris, plus they might show you some WinFX, if you ask nicely."
It's midnight as I post this description and Doug has been in my office since 6:30pm working with me on it. If nothing else, it's going to be hella fun for us. : )
Wednesday, Aug 24, 2005, 9:07 AM in Fun
---
Between the new job, the new house and the book, I haven't had nearly enough contact with my local nerd friends. I'm starting to experience nerd withdrawal symptoms! Come to the PND next Tuesday and ask me about MDD, my PDC talk or how Jeff Richter and I were recently blamed for IDisposable.
Friday, Aug 5, 2005, 4:03 PM in Fun
---
If you love Fight Club (who doesn't?!?), then you'll love the rest of the Fight Club rules.
Friday, Aug 5, 2005, 7:40 AM in Fun
---
Here.
Ian and I submitted the final manuscript for Programming Avalon, Beta Edition, on July 13th (right on time, I'll point out). Since then, the O'Reilly folks have been working overtime to fix my prose (I'm not a big fan of editorial guidelines or templates). As part of that process, they sent Ian and me a 400+ page PDF file for us to check. In the process, I submit changes to the manuscript, Ian argues about the ones with which he disagrees and then I argue with his arguments. It's great fun.
Here an excerpt in which we're arguing over a single word that has nothing whatsoever to do with the technical content of the book while two professional editors from ORA watch, waiting for us to decide:
Page 51: You want to change "breathing space" to "breathing room"? Why? The term "breathing space" is a common idiom. (And judging by Google, that's not just a UKism.) I prefer it to "breathing room", so unless there's a good reason to change I'd prefer to leave it.

[csells] googlefight shows "breathing room" to be slightly more popular than "breathing space," plus I'd never personally heard the latter. Also, you use the word "space" in a close previous sentence and I liked the variety.
Here we're arguing over a single word again and, to help make my argument, I claim super powers:
Page 205: Why do you want to change "useful" to "handy"? Is there something wrong with "useful"?

[csells] because you use the word "used" later in that same sentence. Having "useful" and "used" so close together made my spider sense tingle.
Here we're dealing with the vagaries of our personal styles and my preference for brevity (Ian can highlight a single word and write several paragraphs on it, while I like to highlight several paragraphs and comment "huh?"). In this case, I circled an URL and said "too big:"
Page 222: Yes it's a big URL, but there's not a lot I can do about that – if you can convince Microsoft to make a smaller URL in the next day or so, please do. There's a shrinkster URL in there too, so I don't see what the problem is. And I'm not going to agree to removing the original URL.

[csells] I didn't say it was a *long* URL (I can hardly blame you for that, Ian : ); I said it was a *big* URL. What I meant was, the font looks too big in comparison to the size of the fonts around it.
Here we're arguing over grammatic style, again, while two professional editors look on, letting us fight it out like children in the backseat of the car on a family vacation:
Page 224: I'm not quite sure what you're proposing as the new text here, although I do see the problem. How about:

"(It doesn't matter where the UICulture element appears within this section.)"

[csells] I'm suggesting that I prefer parenthetical comments to be part of the sentence, e.g. "Foo sucks (and by 'sucks,' I mean 'blows')." You tend to do it the other way and I find it jarring, e.g. "Foo sucks. (And by 'sucks,' I mean 'blows.')" Plus, there's the matter of consistency, i.e. I do it in the former way in my writing and you do it in the latter way in yours; we should pick one and stick with it (and to be clear – we should pick my way : ). Unfortunately, I packed my Strunk & White, but I have every confidence that they got it right, too. : )
In this case, after reading several hundred pages of the book again, I was getting a little punchy, so I highlighted a Bezier curve, redrew it by a couple of pixels and suggested that after doing the math in my head, I feared a bug in Avalon's rendering of Beziers; could ORA check it with their Cray?
Page 252: Well those were all drawn in Avalon using the exact positions chosen for the control points. Also, I've been using Bezier curves for about 15 years now, and they all look exactly as I'd expect them to look. I just cranked up Illustrator on the Mac. It seems to agree with Avalon… So does Acrylic. What maths are you doing that indicates a different result?

[csells] I was just teasing. If my mention of the use of a Cray wasn't enough, didn't the bit about me doing the math "in my head" tip you off? I am delighted to know that you spent time double-checking things, however. : )
See? Big fun! : )
Wednesday, Jul 20, 2005, 2:03 PM in Fun
---
At least that's the message I'm getting from the 2nd episode of the Channel 9 guy's trip across country to the PDC (I'm not saying that's a bad message -- it sure beats the whole "ActiveX" thing...).
Sunday, Jul 17, 2005, 10:03 AM in Fun
---
but it's fun anyway...
[Scoble]
Wednesday, Jul 6, 2005, 7:24 PM in Fun
---
I read Old Man's War today (no better way to avoid writing than to read). I enjoyed it very much. I'm off to check out the author's web site now.
Tuesday, Jul 5, 2005, 12:00 PM in Fun
---
Rich is tired of me blowing off the local nerd events, so he set up something he knows I can't stay away from: an afternoon showing of Fantastic Four. I'm an FF fan from way back (every time Don signs his emails " 'nuf said " I get a little tingle of nostalgia). I'm been loving the Ultimate Fantastic Four trade paperbacks (that's what adults call comic books that have been collected into a bigger, more expensive book).
I don't have much hope that this movie will be any good, but the Brothers Sells and I can't not go. Feel free to join us! Rich has picked the 12:25pm showing on Saturday, July 9th, at the new Century 16 Cedar Hill Crossing theater that I love, just to make sure there would be no way I could say "no." Plus, I'll be deep in the throes of finalizing the Avalon book chapters that day (along with every other day this week -- what a way to burn vacation days), so any excuse to avoid the writing will be good. Come one, come all!
Monday, Jun 27, 2005, 9:10 PM in Fun
---
I can't believe nobody* blogged about this today! Isn't this the beginning of most sci-fi horror movies?!? By the end of the movie, all of the scientists die and only one good-looking male/female pair are left, having barely averted the Apocalypse (no one every expects the Apocalypse...). Since I identify with the scientists and barely know anyone good looking enough to survive, I'm not so sure reincarnating dogs into zombies is such a good idea...
*by "nobody" I mean "nobody" I read, of course -- I sure it was all the news amongst the "dear diary" set : )
Tuesday, Jun 21, 2005, 8:05 PM in Fun
---
The channel 9 guy starts on the road to the PDC. Random fun (1 of 3).
Thursday, Jun 16, 2005, 3:17 PM in Fun
---
This one made me laugh out loud:
Monday, Jun 13, 2005, 2:25 PM in Fun
---
The boys and I went to ROTS on the 2nd night and our local theater had some auspicious guests that I made stand around while my son took the picture (neither of them asked to be in a similar picture, btw : ).
I was at Episode IV in 1977 when I was 8 years old, so this has been quite the journey. You'd think I'd be bored, but I've actually been following threads on the web lately like the "3 more episodes" rumors and The Sith Explained on howstuffworks.com.
Tuesday, Jun 7, 2005, 11:29 AM in Fun
---
A: The reason I gave for wanting to cancel an extra credit card.
I bet they don't have that reason in their script! : )
Friday, Jun 3, 2005, 10:23 AM in Fun
---
See IanG, my Avalon book co-author in crime, talk with Ted Neward about WinForms, Avalon and .NET. Nicely done.
Saturday, May 28, 2005, 10:10 AM in Fun
---
I just realized: Lucas took us through the entire 6 film series and we never got to see Yoda fight with Darth Vader! What's with that?!?
P.S. I like that "Vader" is in my spelling dictionary. Lucas changed the world.
Friday, May 27, 2005, 11:17 AM in Fun
---
I have no idea where the "Studs from Microsoft" video came from or how old it is and I had to download it first before playing it, but it was totally worth it to see Bill Nye as a 'softie and to watch those women run for their lives instead of facing the possibility of dating any of us. : )
[via jj5 (would doesn't like people to know he exists, let alone link to him...)]
Thursday, May 26, 2005, 9:45 PM in Fun
---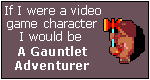 I am a Gauntlet Adventurer.

I strive to improve my living conditions by hoarding gold, food, and sometimes keys and potions. I love adventure, fighting, and particularly winning - especially when there's a prize at stake. I occasionally get lost inside buildings and can't find the exit. I need food badly. What Video Game Character Are You?
BTW, wander around building 10 one time and you'll know I'm not kidding... : )
Wednesday, May 25, 2005, 8:08 AM in Fun
---
I'm sure you've heard the news and read the specs and you might even have seen the celebrity-ridden MTV special. Now, see what it'll really be about.
Tuesday, May 24, 2005, 8:07 AM in Fun
---
I was searching with the boys this morning and found this:
I just thought I'd share. : )
Monday, May 23, 2005, 10:59 AM in Fun
---
My sons and I (and my 11-year old boy's "date!!!") all enjoyed Star Wars Episode III: Revenge of the Sith. I know it didn't have much in the way of decent dialog or acting, but when compared to the other 5 in the series (especially episodes I and II), it rocked. I've only seen it once, but right now it's tied for first in my mind with A New Hope (I know some snobs like The Empire Strikes Back best, but I still love the feel of the first one).
Also, I liked Unleashed a great deal. Not only did I enjoy the fighting, but I really enjoyed the relationship between Danny and his new family.
On the other hand, in spite of being a huge Frank Miller fan in general and a Sin City comic book fan specifically, I couldn't stand that silly movie. I wanted to see a movie version, not the comic book version projected onto the screen!
In other news, I'm still waiting for a sequel to The Matrix. I don't count this fan-boy movie or this one. Anyone got a release date to a follow on worth the time to watch?
Monday, May 2, 2005, 8:15 PM in Fun
---
Here.
May 7, 2005, 10:00pm EDT (08 May 2005 02:00:00 UTC)

East Campus Courtyard, MIT

42:21:36.025°N, 71:05:16.332°W

(42.360007,-071.087870 in decimal degrees)
I can't attend this year myself, but I'm definitely planning to go to this one and only convention some time in the future (I love that idea : ).
---